This is a list of resources I use in my biz on a regular basis and highly recommend them.
General Resources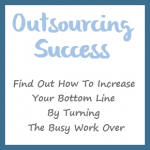 Outsourcing Success – This is my 'baby', my very first information product. It's an audio interview series (with transcripts) where you will hear from four savvy marketers who let me pick their brain about outsourcing and what makes it successful. And of course to be successful at something, there are challenges to overcome too, so we talk about that also.
Paid Resources:
Solo Masterminds – This is a membership site with tons of learning resources (audio, video, printable guides, etc) as well as a mentoring forum where you can ask questions, get feedback, find help, etc. (I highly recommend Solo Masterminds. The networking forum alone is well worth the cost of membership! But you add all the learning resources available here once you're a member and the price could easily be way more than she charges!)
Biz Coaching – I highly recommend Kelly McCausey. She knows her stuff and she's a tell it like it is, no fluff coach. If you're serious about getting your biz to the next level…she's your person.
42 Day Launch Incubator – I'm currently going through this product for my second product. I've already skimmed the content and am familiar with it…and it's goooood stuff! If you're ready to launch a product but not sure how to do it this is exactly what you need and in just 42 short days you'll have a product launched!
Coach Glue – Nicole Dean and Melissa Ingold are the masterminds behind this. They provide top notch expert templates that you can use in your coaching or service based business.
Easy PLR – If you need high quality, excellent PLR on a variety of topics Nicole Dean's is the stuff to pick up.
Free Resources:
Solo Smarts (formerly known as Work at Home Moms Talk Radio) – This is a great podcast by my friend Kelly McCausey. It's interviews, ideas and inspiration for solopreneurs.
Solopreneurs are Smarter – This short and easy to read book is perfect for you if: you're currently a successful solopreneur or have dreams of becoming one.
Sparkplugging –
Virtual Assistant Resources 
Paid Resources:
Virtual Business Start Up System.  This is a very in depth step by step guide for starting your business. You'll find a workbook, templates, CDs, Tawnya Sutherland's trade secrets and a 100% satisfaction guarantee. This is one of the easiest and most comprehensive ways for a virtual assistant to set up shop.
Free Resources: