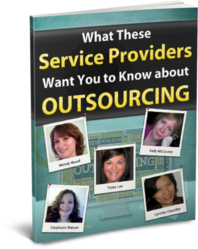 Several online service providers came together to create a free report on the things they want you to know about outsourcing. It was fun to be one of the service providers contributing to the project 🙂 We shared things you should know about outsourcing. You'll find some checklists as well as some tips on how to make your outsourcing a success.
Here's a quick snippet from the report:
"I've been working as a Virtual Assistant since 2006 and while I've been really blessed to have super awesome clients that I love, there have been a few that made me cry, bang my head against my desk…ok you get the picture 😉 So, what have made those few clients a nightmare to work with?"
Hmmm…I bet you can't guess who that snippet is written by 😉
So, whether you've been outsourcing forever or just getting started, be sure to grab this free report now by clicking the link below. (It's a PDF file)
Online Service Providers Share Their Outsourcing Tips
I hope you enjoy the report!
Until next time…