Consider yourself forewarned that this will probably be a long rambling post! lol
Finally! It's only taken me how long (oh let's see…12 days now!) to get my NAMS post written. I've been that busy since getting home Tuesday night the 2nd! Let me just say that the first night we got home I couldn't do anything except sleep. I was that exhausted! All those late nights finally caught up with me!
I don't really know where to start. I have so many thoughts. I guess I'll start with I'm so glad I decided that the beginner's group was exactly where I needed to be. I was contemplating this decision because I do know some stuff about affiliate marketing but I ended up learning a lot… way more than I realized I needed to learn…from the beginners group.
My favorite thing about the workshops? The fact that we got to actually WORK on selling a product that was created right there as we sat in the audience. 5 internet marketing gurus shared their secrets about social media marketing. And while 3 sales isn't much to brag about I was so geeked! Before NAMS I had only ever made 1 affiliate sale and that was in the course of a year! I had 3 sales within 24 hours at NAMS! It really opened my eyes to the fact that affiliate marketing is totally doable and that I can do it.
Kathleen Gage
Speaking of the 3 affiliate sales. Once I realized the winner of the sales contest had sold 26 products I started to feel like a total DORK for 'bragging' about my 3 sales. I was blown away when one of the speakers (who rocked the house by the way) Kathleen Gage actually took the time to send me a DM on Twitter and ask about my sales before NAMS and to tell me congratulations on those 3 sales. The fact that she took the time to actually seek me out and encourage me just kind of blew me away. I wasn't expecting someone 'important' to care about the fact that I was feeling like a dork. She really made me respect her a lot more than I already did by just that one small action! Thank you Kathleen 🙂
Bob "The Teacher" Jenkins
And then there was the man who rocked my world (not like that you guys! jeez 😉 lol) Bob "The Teacher" Jenkins. I was so drawn to him. I hung on his every word. I felt like the brightest bulb in the box after hearing him speak. Suddenly so many things made sense even though I knew a lot of what he was talking about. It was just one of those things where the pieces of the puzzle finally all came together and fit and you're like 'oh duh'! His presentation was engaging, easy to follow and he was just great. Nuff said!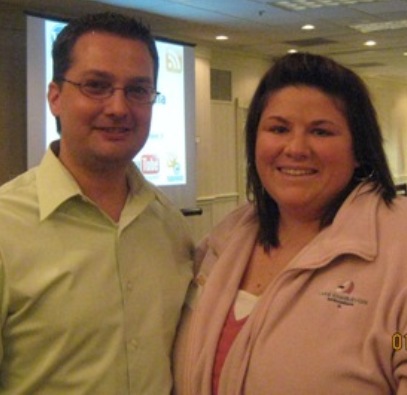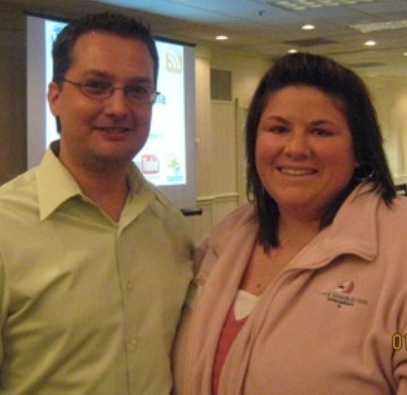 Lynn Terry
Oh man! Where do I start? I've 'known' Lynn online for the last several years but getting to meet her in person amazing! She's just as sweet, funny, kind, caring, considerate and down to earth in person as she is online! Her presentation was pretty basic stuff for me but I had a total leap out of my comfort zone moment during Lynn's presentation. Those of you that know me know my serious issue with public speaking and the fear I face. I had a question and I didn't let my fear stop me from asking! This was a huge breakthrough for me! There was a microphone shoved in my face and I talked…in front of a room FULL of people! Yikes!
It wouldn't be fair if I didn't mention the lunch at Ruby Tuesday's with Lynn, her daughter Annie, Angie Newton and Danielle Johnson. Let me just say that we were getting looks for a lot of the people there. Yes folks us adults were being that loud and obnoxious! How we didn't get kicked out is beyond me! It was at that lunch that I learned Lynn Terry and I have so many things in common. I never would have thought that! My favorite phrase now? Chaaaaarlie (if you have no clue what that means check out this video and it will explain everything!)
There were other presentations that rocked my world too. Aileen Bennett was amazing. She kicked us off Friday morning and man oh man what a great way to kick things off! Kathleen Gage as I already mentioned rocked the house.  Denise Wakeman gave lots of blogging tips that I picked up several pieces of gold nuggets from.
And of course there was the whole point of the event – meeting so many awesome peeps! And here's just a few…
There were several other people I met too. Just not enough space to list them all! And next time I need to push myself out of my comfort zone even more and network with way more people. I kind of stuck to the same 'group' the entire time so that's my goal for NAMS 4 – to network with lots of other peeps!
It was just an all around great experience for me! I learned so many things, met so many awesome people and will be going back for NAMS 4 in August. This is one event that I can see myself attending over and over and over – it was that great of an experience for me!
Of course with most good things come some bad. And while for me there weren't that many bad things there were a couple things I didn't like. I didn't like what Joey Smith taught the beginners. At first it didn't bother me but then the more I sat and thought about it later that evening, it really ruffled my feathers. I don't agree with what he taught and I know everyone has their own opinion and that's just mine. He was teaching us the Twitter Cash Method (I believe that's what it was called).
The service in the restaurant of the hotel wasn't always the greatest. There were a few times we waited and waited and waited to get our food or to get our check. They also didn't have a very big selection of food (they mostly offered a buffet and for those of us that were 'dieting' a buffet isn't the greatest choice!) and the food was pretty expensive. Thankfully there was a Subway right next to the hotel and I was able to eat there several times for lunch.
And last but certainly not least – my Michigan road trip gals. Kelly McCausey, Cindy Bidar and Kim Smith. This is the 2nd road trip with them and the 1st time around (to Canada) they got to watch me 'conquer' my fear of driving over bridges and this time around they got to watch me…well NOT conquer my fear of mountains and totally FREAK out!
It's kind of hard to put into words everything I experienced during NAMS. It's just one of those things that you really need to experience for yourself. Everyone walks away with such a different experience. If you're thinking about going to NAMS 4 in August be sure to grab your ticket now.

p.s. Check out all my NAMS pictures.