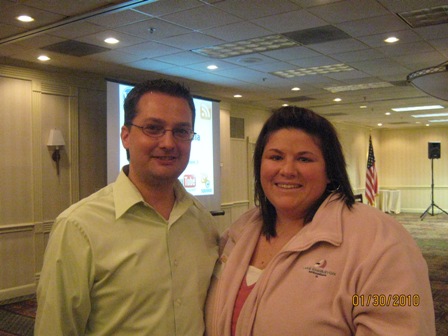 As most of you probably already know I just recently got back from attending NAMS 3 in Atlanta, Georgia. In fact the above picture is just one of the many I've yet to get posted (It's Bob "The Teacher" Jenkins and I – he totally rocked my world by the way! More on that later). It was awesome (I know I still need to get a post put together recapping my NAMS experience!). If I had let 'fear' hold me back I wouldn't have attended such an amazing event!
Public speaking is a huge fear for me and I was concerned about whether or not there would be a time and place for everyone to do a quick little introduction of themselves. I actually posted on Mom Masterminds about this because I was so nervous about it (and by the way no you don't have to do this! lol) and I had considered NOT going if we were going to have to do this.
The point of this isn't about my fear of public speaking (it's not just a little fear – I actually hyperventilated in one of my college classes during a presentation I had to do) but you might be impressed to know that I actually asked a question – with a stinking MICROPHONE in my face – in front of a room full of people!. It's about I learned how valuable offline gatherings can be for someone who has an online business.
Not only do you finally get to meet so many people that you've probably known online for several years but the social networking aspect of it is huge. If you haven't noticed social networking is pretty big these days, everyone is really gung go ho about it and social sites are bursting at the seams with members and new members joining daily. Social networking takes on a new expansion during in-the-flesh-and-blood live events.
What's a Live Event?
That's pretty self-explanatory and probably not something that needs to be explained but just in case there is someone that doesn't quite understand what it is it's exactly what the name implies. It's a gathering for business (both offline and online) professionals. They're held all over the world. It's simply people with something to say that others want to hear forking over their time and talents to those interested. You'll find a mixture of speakers at internet marketing live events. Those from bloggers to internet marketing gurus to coaches often speak.
Benefits of Attending
After my experience at NAMS I finally understood what others have always talked about when they mentioned the benefits of attending live events. There's just something about being in one place with so many other people seeking the same knowledge and understanding you want. The energy is high and it's nice to know that others 'get' what you're doing with an online business. I don't know about you but so many people around me (family and friends) just don't have a clue when it comes to internet marketing stuff. It was so refreshing to be in a place with so many people that understood me and my business!
Here are a few things I learned attending NAMS that are benefits of attending a live event.
Step out of the box – your comfort zone that is. This was huge for me. You might not think this is a benefit but it is. Your business isn't going to grow doing the same thing over and over. You need to learn new things and sometimes things are easier to pick up during a live event especially one like NAMS where you aren't just learning but you're actually DOING! And of course you'll get to meet those 'screen names' you've known for so long.
Joint ventures. Sure you can find people to do joint ventures with online – in fact people do it all the time. But it's easier to make the decision to joint venture with someone you've met in person and can get a 'gut reaction' about them. Talking in person with them will help you each understand the others goals/business objectives and you can then make a decision as to it would benefit you to partner with one another.
Build your business. There's no better time than a live event to pass out those business cards (you do have business cards right?). Don't expect it to build you business overnight but the opportunity to pass it along to so many people from all different walks of life but share the same goal as you – building your business – is an opportunity you don't want to pass up. You'll also get to take pictures with others including some of the top internet marketing gurus that speak! There's networking opportunities during breakfast, lunch, dinner and after hours!
So if you've never been to a live event now you have three (and there's so many more I could have listed!) reasons you need to make it happen! Put it on your to do list or goals list to attend a live event and start making plans to attend one. In fact, NAMS 4 is coming up soon! It's this summer in August!
What do you say will I see you at NAMS 4?