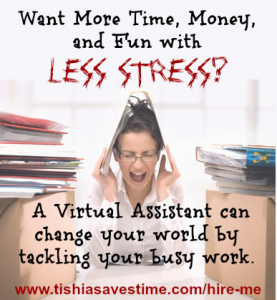 Many solopreneurs think they can handle every aspect of running a business on their own. While that may be possible in the beginning, once you start to grow and become more successful it's just not possible to have your hand in every aspect of business…at least not a hands on approach. In fact, for your business to become even more successful you'll find that you can't (and you shouldn't) handle everything on your own and need to outsource certain aspects that are important but don't require you to do it. One area that is important but can be outsourced is your social media marketing.
How can I outsource my social media to a Virtual Assistant? 
Many people think that you can't outsource social media because it's all about building relationships and being 'yourself' and 'real' with your market. This is true. It is about relationships and making a personal connection with your market. But this doesn't require that you spend hours a day on Twitter, Facebook and other social media sites. And it doesn't mean that it has to be you posting on these sites 100% of the time.
Think 80/20 when it comes to social media. You personally need to be on these sites about 20% of the time interacting with your market, leaving 80%. That's where a Virtual Assistant comes in. While a VA can't be you, there are everyday things they can handle for you. Let's take a look at a few ways a VA can handle your social media marketing like Twitter and Facebook, two of the more popular social media sites.
Twitter and Facebook
When it comes to Twitter, one of the most time consuming things can be searching for people in your target market to follow. As long as a VA knows and understands the market you want to connect with, they can do this for you.
When it comes to Facebook, it's time consuming to find people in your market that you want to friend (if they have a personal page and not a fan page) or like (if they have a fan page). Again, this doesn't have to be done by you, it can be done by a VA as long as they know your market and who you want to connect with.
Now, going back to the 80/20 rule mentioned above (remember you spend at least 20% of the time personally interacting and have your VA on your sites the other 80% ) Another way a VA can help you with Twitter is by setting up an editorial calendar and having them take care of it for you. Here's an example of what your calendar might look like:
Mondays:  Your products or services. This is pretty self-explanatory. Have your VA send out Tweets about your products or services.
Tuesdays: Newsletter sign-up. Have your VA pull some tips/ideas from past newsletters and post them with a link to your opt-in page.
Wednesdays: Link love. Have your VA share links to articles, blog posts, products, services, etc from people you admire that have useful information for your target.
Thursdays: All about your blog. Here your VA promote some of your best content on your blog. Remember that controversial topic you wrote about several months ago that evoked lots of emotion from your readers? If the topic is still relevant, maybe it's time to get it out there again.
Fridays: Fun! Let your followers see a fun side of you and that you're not all about promoting your products and services. Have your VA share some of your favorite quotes, books, movies, songs, etc.
Of course that's just an example of how an editorial calendar can look. You can use these suggestions and alter it to fit your needs. And remember, it's also really important to mix things up and not always be promoting – share useful articles, tips, etc from other people.
These are just a few social media sites your VA can help manage. There's also LinkedIn, Pinterest and more.  These are just a few ways a VA can handle social media for you. I hope you'll see how this can free up your time and allow you to focus on more important projects – money making ones – that need your attention.