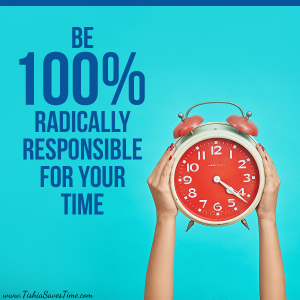 Nancy was working full time plus running a side hustle in the evenings and on weekends. She frequently felt overworked and like her time wasn't her own. When she complained about this to her friend, the other woman challenged her to take responsibility for her time, rather than viewing herself as a victim of it.
It's not at all unusual to feel like time is out of your control.  Maybe you'll argue circumstances and other people are in charge of your time – that there's never enough and you can't do anything about it.
Your Time Has Value
But what if you could? What if you chose to believe that your time has value?
Most people agree when you say that time is valuable – like in a global sense. Now what if someone were to get specific and say your time has value? How do you feel about that statement? What emotions does it bring up for you?
When Sharon stopped working as a cashier and started getting clients as a virtual assistant, she had difficulty embracing her time as valuable. As an entrepreneur, she was stuck thinking about time in terms of an hourly rate and that rate was firmly connected to her last regular job had paid $11 an hour.
She looked around at friends and family, who also had regular jobs and she knew they topped out at about $20 an hour. This created an expectation for her. Without realizing it, she limited her earnings to just $20 per hour.
Your Time is Precious
When in your experience, time is bought by the hour and you've never been bought for much, you don't believe your time is precious.
But it is.
As entrepreneurs, we get to break out of the traditional job mindset.  We don't show up to someone else's business, clock in and do the work assigned by someone else's plan and vision.
We show up with our own vision and create a plan. We bring our experience, perspective, creativity and influence and get to work!
This is true of every one of us.  Product creator, service provider, coach, consultant, speaker, author, blogger, podcaster… we don't bring hours alone – we bring US.
Your Time Has Impact
The value of your time doesn't end there.  You shouldn't calculate dollar value based purely on what you've brought to the table.  The value of your time is much more than that! It's about the impact you have on those you serve.
When you bring all of yourself into a situation, you create an impact. That impact changes shape in different situations, but it's always positive and it is valuable to others around you.
Think about what you bring to your products & services. What impact do they have on your customers and clients?  When you think about the end result, it's easy to realize the time you invested into creating that is indeed valuable!
Discover how you're REALLY spending your time when you download your free workbook!